Experiencing the kinship between stories, fabric and the human spirit
Spin a Yarn, Weave a Life is a valuable opportunity for anyone with a story to tell, creating expansive enrichment and deep impact.
– Laurie Moskowitz-Corrois, MA, ET, Expressive Arts Program Coordinator, The Children's Room, Arlington, MA
My first thought when I heard about Spin a Yarn, Weave a Life was…finally!
– Sandra Corneau, Building Manager, JFK Apartments, Cambridge, MA
Seeing the bits of black ink dotting the woven fabric, I know the individual words of my story have merged with the words of others of my community. A part of me will always be represented in that weaving, an experience made manifest that is unparalleled.
– Lorraine Fine, Congregation Eitz Chayim, Cambridge, MA
Through the use of color, fiber, paper, texture & language, Catherine and Cheyenne facilitate a process of quiet & profound transformation: transformation from paper to fiber, from isolation to belonging, from part to whole. Spin a Yarn, Weave a Life re-imagines the art of storytelling and the practice of healing.
– Barbara Hamm, Psy.D., Director, Victims of Violence Program, Cambridge Health Alliance
I find peace in the Spin a Yarn, Weave a Life workshops at BSU…my fog, my pain, my unbearable feelings that I live with every day quiets in writing, sharing, drawing, viewing, CREATING."
– Ryan Connolly, participating veteran in "Vets Speak" project at Bridgewater State University
News & Events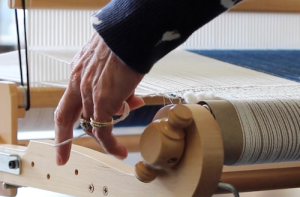 Watch the newly-released video of our October 2014 training for educators that launched a year-long community weaving project honoring the memory of student Sam Berns. The project incorporates individual responses to Sam's Philosophy for a Happy Life: 1. Be OK with what you ultimately can't do, because there is so much you CAN do. 2. […]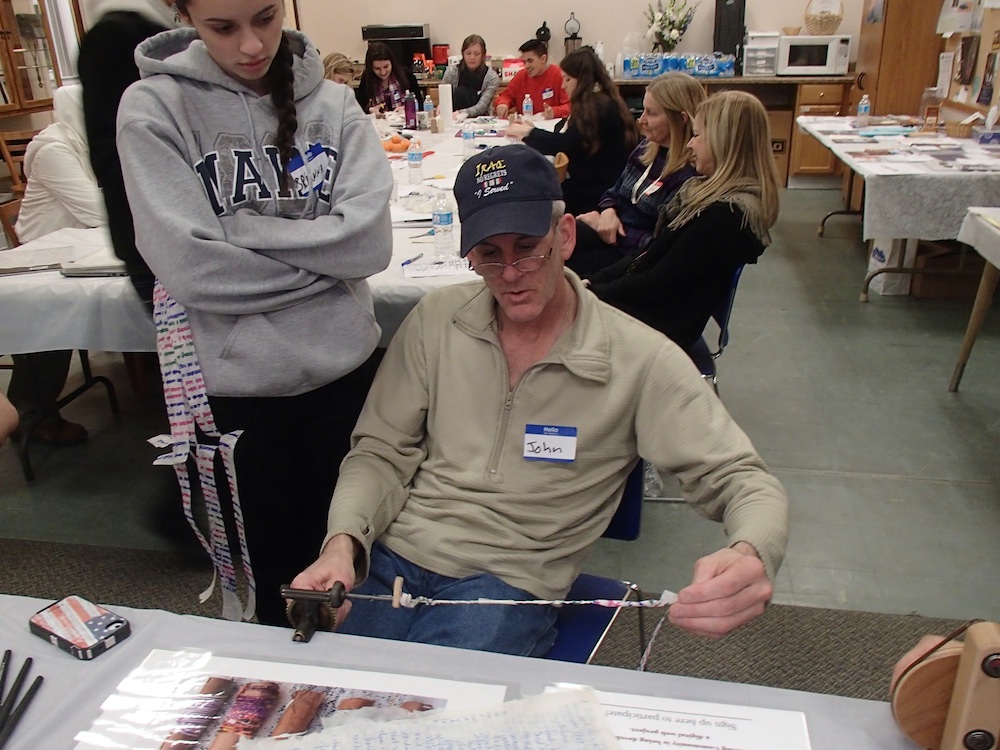 View Cheyenne McCarter's video portrait of our engagement with Vets Speak at BSU, capturing footage from two workshops in Spring 2014 and featuring the words of veterans and art & activism students.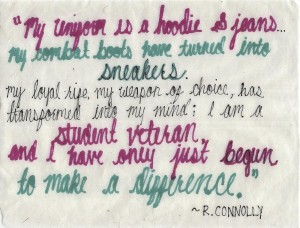 During our April 2014 workshop at Bridgewater State University (BSU), Cheyenne McCarter invited veteran Ryan Connolly, an active participant in BSU's Vets Speak project, to share his personal experiences of writing, spinning and weaving with us. Click on Ryan's words below to view the expressions of other workshop participants.